June 11, 2012 by Sage Business
Web-based or cloud-based software and/services are all the rage right now, you hear about them everywhere. You are probably wondering how they can benefit your business and if any of them are a good fit for your organization. There are so many types of cloud services today it can be a bit of a daunting question to ponder.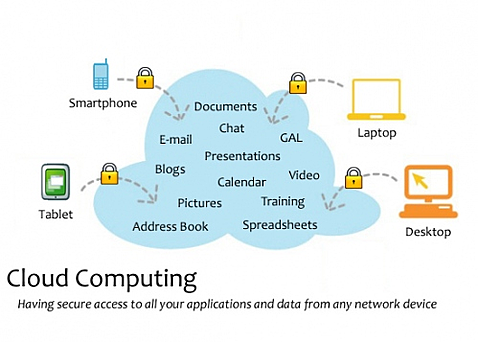 Keeping things very simple, here are ten reasons why I think you should learn more about cloud-based solutions and how they can benefit you and your business.
1. Save Time: Running a business is like having two or three full-time jobs. Because there are so many things to do – time – is one of the most valuable assets you have. In my experience, cloud-based software = substantial time savings. From easy to access email to no longer having to install software updates, cloud-based solutions can really make an impact on efficiency.
2. Share and Empower: I have found cloud-based software to be much easier to access, use and share information across my team. My team is more empowered to do things that only I used to be able to do. That is a win/win!
3. Work from Anywhere: I spend a lot of time traveling, so being able to work, in addition to accessing my full email and calendar from my mobile device is critical. This allows me to be productive when I am waiting in lines, at restaurants, and anywhere really. The thing I love most is that when I am in the office; I am not playing as much catch up.
4. Keep in Touch: When I am traveling I like to keep in touch with my family via mobile video calling, but I also use it to stay in touch with donors and my team. Video calling adds a face to face interaction (which I am a huge fan of) in a very convenient way. I recommend Skype, but there are a ton of great services.
5. Stay Safe: Your data is your lively hood. Backing it up in a secure environment is essential.
6. Learn More: Take time this fall to use a web-based survey tool to learn more about your customers. The information you gather can be used to build a more successful marketing plan. I recommend Survey Monkey because it is easy to use and the base product is free!
7. Build Awareness: I meet business's all of the time that have not yet started an email marketing program. There are a multitude of web-based email solutions that will really make getting started easy. Consistent communication is key to building awareness for your business. So, what are you waiting for?
8. Network Online: Social is another blog post all together, but becoming social and networking online is critical to your businesses future. Make it your goal to join the top 3 by the end of summer. (Start with Facebook, Twitter and Linked In.)
9. Collect Mobile Payments: My new favorite web-based service is mobile payment processing. Check out my blog at www.donorexpereince101.com to see why I love it so much, and check out Sage Payment Solutions mobile offering.
10. Get Current: Now is a great time to consider moving your old solutions to the cloud. Think about how your organization might benefit from moving your accounting, CRM or other application to a cloud-based solution.
Cloud-based solutions can really make your life easier and increase productivity.
Bridget L. Brandt
Director of Marketing
Sage Business
Have you considered Cloud-based software solutions for your organization? Sage offers a variety of deployment options for the software you've learned to depend on. Talk to us to find out how a hosted Sage environment can help maximize your return on investment!
Contact Anthony Cox for more information at 866-647-2611 ext 127 or email anthony.cox@bterrell.com.