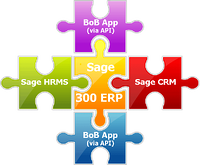 The argument between ERP "suites" and "best of breed" (BoB) applications has continued since ERP vendors first appeared. The argument seemed settled in favor of single vendor suites by the late 1990s, but today's proliferation of cloud-based business applications is heating up the debate once again.
The appeal of best of breed applications was that they focused on industry-specific or niche functionality, whereas ERP suites seemingly strived for the 80/20 rule when delivering customer requested functionality. BoB vendors argued that because they were not spreading their development budgets over a multitude of products, they could pay closer attention to the market segment they were serving and provide more detailed solutions for their customers. Additionally, they didn't have to deal with integration issues, so they could also deploy their solutions more quickly than ERP suite solutions.
The case for ERP suites centered on having a single vendor to deal with (or a single throat to choke, depending on your perspective!) and, more importantly, seamless integration between software modules. Customers did not have to deploy the entire suite, but could implement only the modules that they required. Further, the ERP vendors proposed the following benefits:
Application suites eliminate duplicate data entry, thereby reducing cost and improving data accuracy.
They provide a single version of the the truth where data was the same in all systems allowed team members to speak a common language.
They help breakdown information silos and increase information access, presumably improving overall productivity through collaboration.
Finally, the common user experience from using a module that is part of a single vendor suite allowed users to become cross-trained and proficient in the new programs much more quickly than with one with a new and foreign user interface.
It's worth mentioning that early on, many software suite publishers saw little benefit in providing integration interfaces to outside vendors, making integration with external applications fairly difficult to achieve. Nonetheless, most businesses chose to deploy ERP application suites during the last decade because of the reasons mentioned.
Despite the predominance of single vendor suites, businesses continued to deploy some best of breed applications. In some cases, there simply was no other solution choice available from their ERP vendor. In other instances, it was simply a matter of "decision by department", where there was no central governance to coordinate purchasing decisions. In any case, the ability to seamlessly integrate these applications was usually very limited, causing companies to employ expensive middleware solutions, use labor intensive export-translate-import procedures, or resort to manual re-entry to move data between systems.
More recently, distinctions between these choices have blurred as ERP suite vendors improve the functionality of modules and as cloud-based, best of breed applications have begun providing application programming interfaces (APIs) that enabled customers to build integrations. Some writers have gone so far as to suggest that we now live in an "API economy" where anything and everything are being connected. It should be mentioned that, while SaaS (Software as a Service) vendors may provide the ability to connect to their software, they may not manage nor support integrations with other vendors' products. Therefore, the responsibility for maintaining these integrations still rests with the customer's IT department.
In this vein, Sage provides an integrated suite of products that encompasses the essential business requirements for most organizations: accounting, distribution/supply chain, human resources, sales and marketing. Like most suites, these products are modular so that customers can select the solutions according to their company's requirements and budgets. As a Sage reseller, BTerrell Group sells and supports Sage 300 ERP, as well as the other fully integrated applications that round out Sage's solutions, such as:
Each of these products offers fast and seamless integration with Sage 300 ERP. However, rather than enforcing a "Sage only" model, the publisher has taken a hybrid approach, combining some of the best features from both the ERP suite and the best of breed models. First, Sage 300 ERP, Sage CRM and Sage HRMS applications are either best of breed or near best of breed solutions. Secondly, each of these core applications have rich APIs that are not only the basis for deep, bi-directional integrations between the Sage products, the APIs also allow seamless and realtime integrations with other best of breed applications that are located either on site (like Accellos Warehouse Management Suite) or in the cloud (like Avalara sales tax compliance).
Using an API, external applications can start a secure session in Sage 300 ERP, and then create transactions as if it were a user. Sage 300 ERP features two types of API architectures. First, its .NET compliant XAPI provides the means for integrating the ERP with other local applications. The second and newer method is Sage's SDATA, a web services interface with a service oriented architecture (SOA) suited for building integrations with web and cloud-based applications. This opens up the possibility of integrating Sage 300 ERP to any customer-chosen SaaS applications that provides a web services API. For those vendors that have not yet created integrations with Sage, BTerrell Group has resources that fully understand how to utilize Sage's APIs and that can work with other vendors to develop powerful new integrations. (Just ask!)
Organizations that are currently using Sage's business applications such as Sage 300 ERP, Sage CRM and Sage HRMS, enjoy the benefits of true seamless integration between the Sage applications. Because of the development of new APIs, you may now choose to build your own powerful integrated suites using best in class applications from multiple vendors. Businesses can enjoy the benefits of tight integration between Sage products and with your chosen SaaS applications. In other words, you can now have your cake and eat it, too!
If you are interested in learning more about Sage products or how BTerrell can help you build a world-class suite of best of breed products,contact BTerrell Group for a free consultation.