Intacct Premier Partner reinforces its commitment to client success
Addison, TX – February 4, 2017 - BTerrell Group, an Intacct Premier Partner that works with small and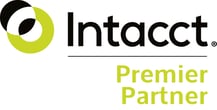 midsized enterprise organizations to strengthen the success of their businesses through the smart application of technology, celebrates its 26th year in business during February 2017.
Founded on February 4, 1991, the company has grown from a husband and wife CPA firm to an award-winning business partner providing software sales and implementation, business consulting, training and comprehensive development services.
Company founder, Brian Terrell, remarked, "We've been successful because we've helped our clients be successful. It's as simple as that. I'm not one to rest on our laurels, but after more than a quarter-century in business, it's appropriate to recognize the milestone."
Mr. Terrell is quick to credit the resourcefulness and talent of his staff: "We hire the best individuals we can find, and then empower them to do great work. Our clients trust us because we have trustworthy professionals, and I'm proud of these guys and gals, some of whom have been here nearly 20 years."
While it is continually innovating, evolving and incorporating new technologies, the firm enters 2017 with the same focus that has served it well since the beginning. "Our goal is to foster a culture of collaboration, partnership and service within our own firm and in our client relationships," Mr. Terrell concludes. "We enable clients to 'do more work with less effort', and we apply that principle to every engagement, continually creating both short-and long-term client company value."
About BTerrell Group
BTerrell Group works with small and midsized organizations, strengthening the success of their businesses through the smart application of technology and the resourcefulness of our people. We employ a talented team of entrepreneurs, accountants, consultants and developers who understand the challenges businesses face and are inspired to solve those challenges. Based in northern Texas, we implement cloud/SaaS solutions including Intacct for clients throughout the country. Our firm's focus is helping clients in the professional services sector, including SaaS, healthcare and nonprofit. Learn more at www.bterrell.com. Reach us at 866-647-2611 or at brian.terrell@bterrell.com.