Sage North America has recently introduced three mobile applications -- Sage Mobile Sales, Sage Mobile Service, and Sage Billing and Payment -- to integrate with Sage 300 ERP. Streamline your processes to make a posiitve impact on your bottom line with mobile accessibility to your Sage 300 ERP system.
Sage Mobile Sales
Sage Mobile Sales is an iPad app that gives your sales team all the information they need to close a sale at a customer site.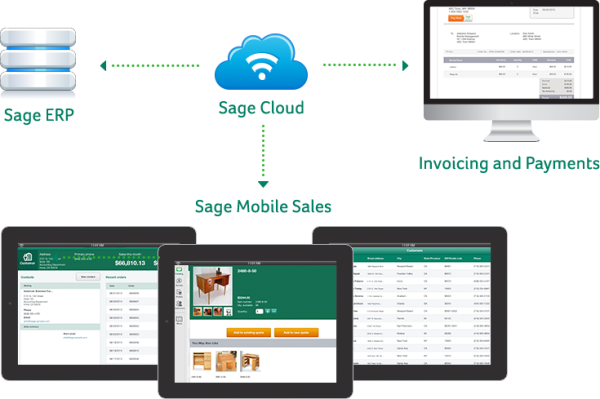 Your field salespeople can complete the following tasks anytime and anywhere:
View and edit customer information on an iPad
Review your catalog with customers on an iPad, and show related items
Create a quote and email it to the customer
Check product availability and confidently commit to fulfilling orders
Enter an order and accept immediate payment
Easy access to recent orders, the convenience of the catalog, and the ability to quickly receive emailed payment receipts and invoices helps create a superior buying experience. Plus, this provides managers with access to performance and company sales data anytime, anywhere.
Download the Sage Mobile Sales app from iTunes.
Sage Mobile Service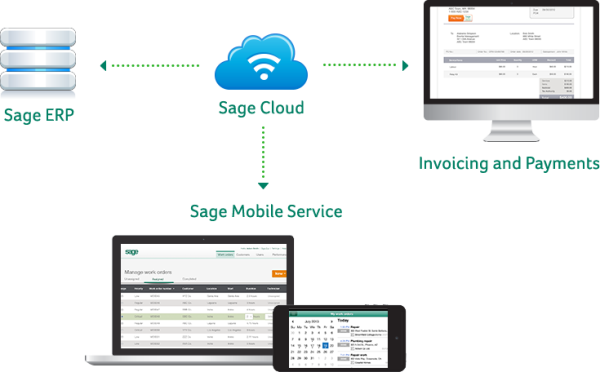 Sage Mobile Service is an iPhone app that allows field service techs to deliver great customer service so you get more referrals and repeat business.
You and your field technicians can use Sage Mobile Service to:
Optimize schedules, routes, and assignments of jobs on the fly
Get customer signoff and take photos onsite
Have anytime, anywhere access to customer's Sage ERP information
Get paid faster and increase your cash flow
Download the Sage Mobile Service app from iTunes.
Sage Billing and Payment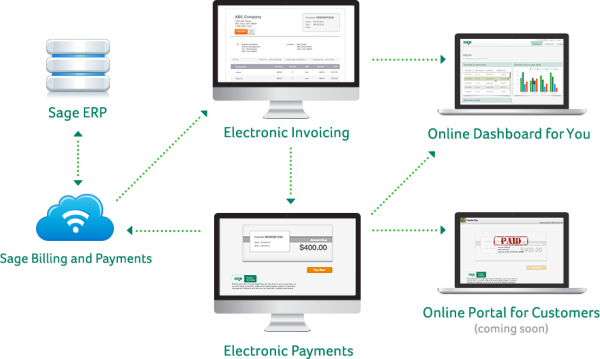 Sage Billing and Payment is a web application that simplifies your accounts receivable processes. This subscription based service lets you send electronic invoices and receipts as well as receive electronic payments. Customers also have access to an online portal to manage their account and make payments.
Since these applications are integrated with Sage 300 ERP, transactions can now be entered into Sage 300 ERP directly from the field instead of being re-entered at a later time, with a higher possibility for inaccuracies. This is a great example of mobile applications providing opportunities for business operations to function more smoothly and seamlessly in a strategic and streamlined manner.
Visit www.sagemobileapps.com for more information regarding these mobile applications or click here for a free 30 minute consultation from BTerrell Group. We'd be happy to help you determine how these apps can be put to work for your business!