The giant, flashing red neon sign that greets you when you visit the Blumer CPAs website may be your first clue that it's not your typical CPA firm. Maybe.
Forging a distinctive path through the well-tilled field of public accounting has already gotten Jason Blumer profiled in the New York Times and the Huffington Post. But today is where things get really exciting for Jason – now he's getting profiled here on the BTerrell Group blog, exclusively for you! I had a chance to talk with Jason where he shared with me some details on his firm's approach to social selling.
If you read the recent post covering my talk with Rhonda Maraziti, Director of Marketing and Practice Growth at WithumSmith+Brown, you've already gotten an introduction to social selling (if you haven't, read about it here). In case you still think social selling only works to get teenagers to buy a certain pair of shoes or energy drink, consider this:
Jason shared with me another interesting fact – most of his firm's client come from Twitter.
I'll repeat that. Well, I'll let Jason tell you himself:
"We get most of our clients come through Twitter; our clients find us. We really don't have to go out and find them. We have a constant source of leads coming into our sales pipeline."
If that doesn't convince you that social media and social selling now need to be part of the marketing landscape for a professional services firm, I can't help you. For the rest of you:
Changing the Mindset
One of the first steps he used to implement a social selling strategy was to create a firm brand, not your typical CPA firm tactic. As Jason explains it, clarifying a brand for the firm is critical to being successful with social selling, "If you look at the social presence of most firms, they're not really talking to anybody. You need to know what you're trying to say and who you're trying to say it to."
Social selling works when you attract prospects because they're interested in what you're putting out there. So you need to know who your prospects are. One of Jason's key recommendations is to niche your clientele; an approach he acknowledges is difficult for many firms.
"People are fearful of detracting customers, but what you're really trying to do is align with the right customer and have the wrong customer go away."
Presenting a clear brand voice though your firm's social presence forges the relationship with the right kind of customers. According to Jason, their content "lets people know that we're thought leaders, we have knowledge and when we're talking, we know what we're talking about." For example, the firm has a particular expertise in helping creative companies manage themselves through the benefits and complexities of growth. As a result, much of its content shares the firm's insights and guidance surrounding growth.
Getting It Done
Now that I understood Jason's strategic approach to social selling, I needed to know about his tactics. Jason and his firm use a variety of channels to get their content out:
Since Twitter has been so successful for the firm, that will be our focus here. Jason has been on Twitter for around six years – "before anyone knew what to do with it," he says.
Jason offers two pieces of advice on how they use Twitter. First, they make their content here (and the other social media sites) visual. Research shows that social media posts with images get more shares, which is an important part of expanding the reach of your social audience. One tactic Jason uses is to create a simple visual of a quote from an upcoming podcast and tweet that out as a promo. Here's a recent example: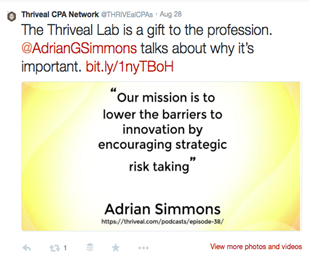 The next tactic you should appropriate is to re-post the same content multiple times. Jason's wife Jennifer oversees marketing for the firm and uses Tweetdeck, a scheduling tool, to make this easy. The shelf life of a tweet has been calculated to last anywhere between 18 minutes to 3 hours, so pushing out the same tweet at different times of day over an extended period of time helps reach the broadest audience.
The multi-tweet approach also speaks to the evergreen nature of the firm's content. The tweet above may be promoting a recent podcast, but there's no reason in the world why Jennifer can't schedule today for this tweet to go out again three months now. Her standard protocol is to share a tweet at least three times.
Understanding the ROI
Jason doesn't bother to track KPIs. His firm's approach is to "just saturate the world with thought leadership quotes, posts, and we do it consistently."
Consistency – that's our fourth big take-away here.
When it comes to ROI, Jason says, "It's hard to connect a new client to a specific post. But an inundation of all that content to one person, ultimately over a year may go 'Wow! These guys are the guys!' and reach out to us then."
Quality prospects coming to find you? Now that's living the dream.