What is HRMS and how can HRMS help my organization?
Does your organization spend too much time filling out and filing HR paperwork?
Is there a need to store historical data for current and former employees?
Do you wish there was one place to track historical and current pay rate, salary information, benefit and savings plans, as well as to record performance evaluations?
If you answered
yes
to any of the above questions, an HRMS solution may be right for your organization.
What is HRMS?
HRMS stands for Human Resources Management System that combines human resource management with information technology to provide a solution that allows you to perform many different human resources functions all in one place.
Sage HRMS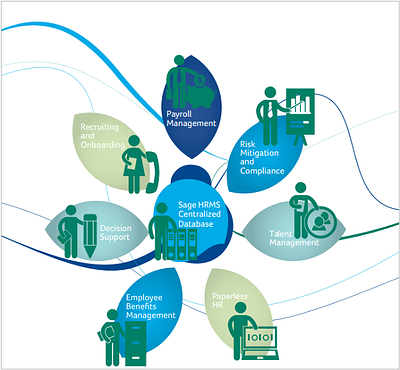 BTerrell Group is proud to represent and implement Sage HRMS for our customers. Sage HRMS is an industry-leading, customizable HRMS solution. Sage HRMS helps companies optimize their HR business processes as well as maximize their Return On Employee Investment (ROEI)™. Sage HRMS provides robust tools to help you manage key employee information, from skills and education to compensation and insurance benefits. The solution also gives you the ability to:
Access a single point of truth for all records and information about employees—past and present.
Track unlimited benefit plans, define eligibility criteria, and automatically calculate benefits costs with comprehensive benefits administration.
Manage all types of absences, including paid time off, leaves of absence, and FMLA leave.
Ensure government compliance and avoid risk by knowing and meeting government regulations and reporting requirements for the U.S. and/or Canada.
Customize virtually any Sage HRMS module by tailoring menus, processes, actions, reports, toolbars, screens, and fields to maximize your organization's effectiveness.
Easily import and export critical HR information so that it can be viewed in spreadsheets, or shared with other HR and payroll applications.
Integrate with related solutions for payroll processing, web-based employee self-service, web-based benefits enrollment, organizational charting, training management, web-based paperless forms, data monitoring, and web-based recruiting.
Let BTerrell Group help you implement Sage HRMS today to help your HR department become even more efficient!