In previous blog posts, we discussed how to start the migration process of Gmail email accounts into Office365 email accounts. We also discussed how to migrate the existing emails in the Gmail account so important information is not lost. This final post in this series will explain how to update your DNS to ensure ongoing support for emails from Office 365.
Updating DNS
In your O365 Admin Center, click on Domains.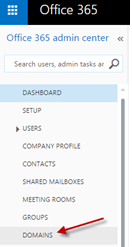 Now click on Add Domain

Click, "let's get started." Then, enter the domain you are moving into O365 and click next.
Go to your Domain provider and add the txt record that O365 provides in the DNS Zone file. I recommend waiting 5 to 10 minutes before clicking "Okay, I've added this record," so that the DNS Zone file has time to populate and O365 can see it.
Caution, clicking on "Okay, I've added this record" and O365 verifying that you own the domain, will error out email being sent from companyabc to companyxyz (but not the other way around) as O365 will attempt to start delivering mail inside exchange and will not deliver to the Gmail account. This should only affect intercompany email going from ABC to XYZ until the remaining steps are complete.
Click next after verification has completed
Select the users that you migrated that have the onmicrosoft.com address attached to them and click "update selected users."

Click next after the display showing the users being updated successfully.
Since we have already migrated the users, click "skip this step."
Before updating the DNS records to work with Office 365, you need to send your users the login information. Using your Gmail account, send individual emails to the Gmail users you are migrating with the log in information for their new O365 companyxyz.com email accounts. Make sure that you edit the user and email from @companyabc.onmicrosoft.com to @companyxyz.com before sending their login info.
Go back to the domain setup in O365 and click next.
If your domain is with a Microsoft partner, then you can have O365 add the records for you, if not, click on add these records yourself. I prefer logging into my Domain and adding them into the DNS Zone file manually, so I can verify they get added correctly. Make sure to remove the Gmail MX records so that all email is routed to O365.
Once this is complete, Click finish. It can take up to 72 hours for all email systems to see the change, but all email will now be routed to O365. Have all of your users begin using their O365 accounts and phase out the Gmail accounts.
All that is left, is to remove the migration files. I would allow 72 hours after editing the MX records in the DNS Zone file before completing this step, to ensure all email were synced to O365. Go to the Exchange admin center and click on migration. Select the Migration Batch and click on the Trash Icon.

Next click on the ellipses and then on Migration endpoints, and in the pop up window select the endpoint and click the trash icon. It may take some time for the previous step to finish, so if there is an error, wait 30 minutes and try again.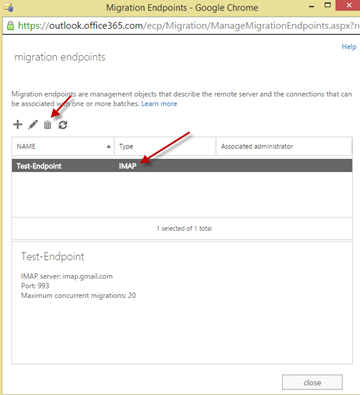 You have now successfully migrated a second domain from Gmail to Office 365.