Wouldn't it be great if your company used a "born in the cloud" ERP application that forever frees you from having to hack the registry? To make that happen, click on the "Contact Us" button or the "I Want to Talk to the Experts" button to the right of this post. If not, then read on...
I installed Sage 300 ERP and Sage HRMS on a terminal server environment last week and was running into an issue with Windows Installer Coordinator. Often when I opened a UI, I would get a Windows Installer Coordinator popup that would run indefinitely. It actually prevented me from even running HRMS.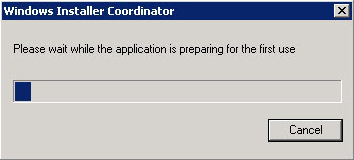 I found that there is a setting in Group Policy that disables Windows Installer Coordinator. I hope this helps if you run into this issue on a terminal server environment.