Attention Sage Accpac Payroll Clients: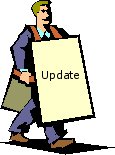 The January 1, 2012 Payroll Tax Update (frequently referred to as the year end PUP) is expected to be available December 20, 2011 for download from the Sage Customer portal.
Please note this will be the final January PUP for Sage Accpac version 5.5. The January 1 Payroll Tax Update will affect anyone running Sage Accpac version 5.5, 5,6, and 6.0.
If you run Payroll on version 5.5 and you haven't heard from us yet, please give us a call to discuss how this will impact your business.
The Payroll Tax Update will be available as a download from the Sage Customer Portal. This download will ensure that you will have the most up-to-date tax rates for the new tax year. Since Sage must wait for states and provinces to announce tax rate changes before creating the new tax tables, Sage will also provide a second update January 31, 2012. Subsequent quarterly payroll update releases will be posted in the same location.
If you are unsure how to download the PUP, please give us a call (214-647-2611) or check out this FAQ document for more information.