This blog is a continuation on the Sage 300 ERP business intelligence journey using PowerPivot. I will focus on the financial statements in this blog.

Let's begin by looking at the tools. Many tools are used to prepare financial statements, namely Income Statements, Balance Sheets and Cash Flow Reports. In the Sage 300 ERP (formerly Accpac) world, the three, Excel based, tools widely used are: FR (Financial Reporter), Sage Insight and Sage Intelligence.
FR is included with Sage 300 ERP at no additional cost. FR reports on GL data, however does not support reporting on multiple companies and does not have a distribution function.
Sage Insight (now Spreadsheet Analyst) is a comprehensive solution for financial reporting, bugeting and distribution – via email or shared folder. This tool conceptualizes row and colum groups and features like roll-up, sheet order by and column order by.
Sage Intelligence was introduced within Sage 300 ERP's version 5.6 and offers out-of-box reporting templates and tools like, Financial Report Designer, which comes in two options – Layout Generator and Add-in.

The three options in designing a Sage Intelligence report are:
• Excel functions like v-lookup, which matches and indexes pulled data into a hidden worksheet
• Layout generator
• Add-in
In deciding which one best suits your work environment, I recommend checking out the FAQ in this link. Pay attention to Q7 and Q11. I, you use these tools or other tools for financial reporting, I would like to hear your comments. If you are unsure about which tool you need, please contact me to discuss your requirements and I'd be glad to help.
PowerPivot is not designed for Financial Reporting. Microsoft's solution to such requirements, after dismissing FRx, is Management Reporter, which is similar to Sage Insight with the concept of row group, column group, consolidation and the distribution function.
With this foundation being provided, PowerPivot is great for financial reporting. You may find live examples here. Below is an example using Sage 300 ERP Sample Company, Inc. PowerPivot's main benefit is the flexibilty and performance.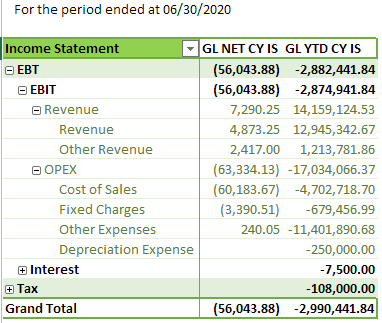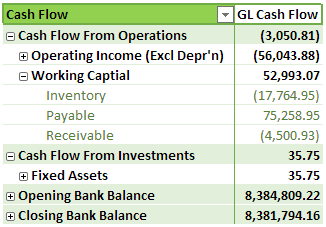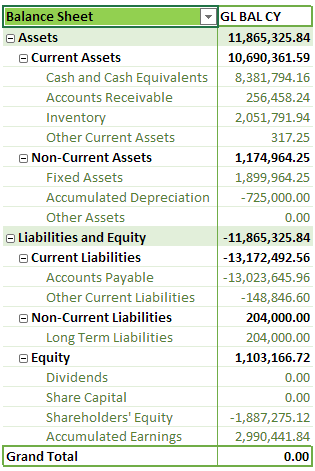 I hope this blog is helpful as you continue to understand PowerPivot's position and the level of professional services we provide here at BTerrell Group. Feel free to view the report in static form here to grasp the look and feel.
Other Related Blog Posts