Recently, I had a conversation with a colleague about ERP technology's coming of age. In the 1960s, the mainframe computer spawned inventory control packages to get the ball rolling, followed by material requirements planning (MRP) packages in the 1970s. It wasn't until the 1980s that software packages began to emphasize process optimization, specifically with manufacturing processes. Most business systems, at that time, focused on one particular business process; and as a result, companies purchased different systems for each business process and ultimately had to rekey data from one system to another to get information to the right people at the right time. This led to numerous human errors, slow processes, inconsistent information, and ineffective reporting. With the advent of ERP systems in the late 1980s/early1990s, companies could purchase a single system that encompassed most, if not all business processes in one package, thus minimizing data integrity issues. Over time, ERP vendors began developing add-ons such as CRM (Customer Relationship Management); these systems were referred to as Extended ERP. In the last few decades, ERP systems have secured themselves as an organization's information foundation; and with the emergence of the cloud, ERP technology is on the move again.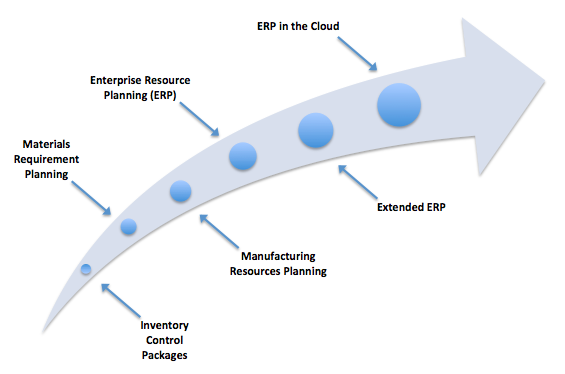 Some companies have been reluctant to move vital company data to the cloud, but their reservations are gradually being eliminated as the advantages of the cloud become more apparent. With the surge of interest in mobile ERP capabilities, the uncertain economic forecast, and many companies implementing BYOD (bring your own device), companies are searching for software that will adapt with them, without locking them in to long-term contracts.
Intacct, a cloud-based ERP solution, makes it easy to adapt to changes as your business and technology evolve. Specifically, you benefit from:
Continuous innovation (software is upgraded behind the scenes…no more bulky annual upgrades)
State of the art technology (next-gen technology without having to acquire or manage it)
Fewer technical resources needed in your business (no large internal teams needed to manage on-premise software and servers)
Seamless integration
Easy customization thanks to its multi-tenant architecture
Regained focus (your teams are freed up to focus on your core competencies)
I believe this phase of ERP evolution is the best and most exciting one yet. For me, as a CEO, it is refreshing to know I can focus on what I do best and know that the backbone of my business is strong, flexible to my needs, forward-looking, and will stand the test of time.